The International Directory of Voluntary Work
New Edition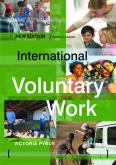 'An excellent source of information' Daily Express
Freshly revised 9th edition of the comprehensive guide that covers ALL types of voluntary work worldwide.



Details over 700 organisations needing both skilled and unskilled people to provide voluntary help whether for a few hours or a few years.



Opportunities covered range from studying wales off Hawaii to teaching English to Indian orphans or from caring for seal pups ni Cornwall to taking part in archaeological digs in France.