The Directory of Jobs and Careers Abroad
New Edition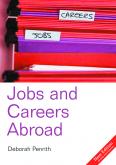 'How to get jobs almost anywhere in the world' Time Out
THE DEFINITIVE GUIDE TO FINDING WORK AROUND THE WORLD FOR OVER 30 YEARS.



Provides essential information on career opportunities in over 50 countries for everyone from school leavers to fully qualified professionals.



Lists the professions and trade in demand overseas and gives all the facts on over 35 different specific careers abroad for teachers, nurses, journalists, computer operators, engineers, secretaries etc.



Covers all the ways of finding a job overseas through consultants, agencies, advertisements, the internet etc.



PLUS listings of hundreds of overseas subsidiaries of UK companies and a comprehensive index of employers and agencies.